Bangkok is a great place for entertainment and night life.
There are many categories to enjoy yourself in this city and
here are some of them :

Bar / Beer Bar. A lot of bars selling drinks (mostly beer) and
there are music and bar girls to chat and entertain you. The
drinks are not expensive.
A-Go-Go Bar. In-door, air-conditioned bar with comfortable
seats or stools, most of tourists prefer to drink beer or whisky,
chat with bar girls, and see a lot of A Go-Go dancing.
Normally the drink list and prices are shown. Sometime visitor
ask for the price of drinks first. Generally it is very reasonable.
Pubs. The English style pubs are popular among business
man, tourists, and foreigners. Many pubs are in the hotels
and several Thai pubs are located in Bangkok.
Cocktail Lounge. Most of cocktail lounges welcome any visitors
no matter whether they are member or not. Receptionists and
PR girls are normally assigned to welcome you, and hostesses
are to accompany you and be sure she can speak English.
Cocktail lounges offers easy chair and live band to make the
customer feel relaxed. The standard is better than the bars and
it is, of course, more expensive.
Discotheques. There are many discotheques, either in the
hotels,or in huge cavernous halls around the city. Laser
technology and superb hit sounds, and music by DJs are very
exciting.
Massage Parlour. There are two types of massage parlours.
The "modern" and the "ancient". The modern massage parlour
offers regular massage and body massage. The ancient style
massage is designed to give the body a thorough working
over, from head to toe. For those who have back problems
please be careful with the ancient massage.
Music Lover and Live Band. For those who like the romantic
climate, or to enjoy the music with dimly lit atmosphere,
it is advisable to go to hotels and good restaurants, and
sometimes the lobby lounge of first class hotels.
Karaoke. Drinking and singing "Karaoke-style" among
friends and with hostesses is very popular among Japanese
and Thai people. Several cocktail and Karaoke lounges have
common room and private rooms for this enjoyment with TV
or large projector screen.
Cabaret Show. Cabaret shows are available in the hotels
and in special cabaret theater.
Escort Service . In many tour and guide magazines available
at hotel, you will find advertising on guide and escort services.
Please check for details before committing to the service.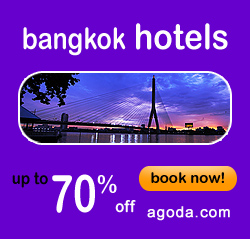 Patpong
Patpong Night Bazaar
Patpong Streets

Soi Cowboy

Ratchadaphisek Rd.
New Phetchaburi Rd.

Sukhumvit Soi 24
Soi Thonglor
Royal City Avenue
Khao Sarn Road
Soi Sarasin
Others



Concept CM2 at
Novotel Hotel, Bangkok


Cabaret Show